Why do our boats use Raymarine?
You may have noticed, whilst enjoying a sailing vacation aboard either a Moorings or Sunsail yacht, that you're navigating the yacht using electronic instruments with the Raymarine logo on display.
This is almost fully ubiquitous across all our Monohulls and Catamarans around the globe, and isn't limited to charter yachts either, as the brand is the market leader.
To understand how Raymarine achieved their success, we must go back in history.
Raymarine have been on yachts in some form for many years, starting in 1923 with the Raytheon branded depth sounder. Here is the awesomely named Fathometer. A fathom is 6 feet, derived from an anatomical measurement, namely the distance between middle finger tips when arms are outstretched. Fun Fact: Some paper charts of the British Virgin Islands still have soundings in fathoms!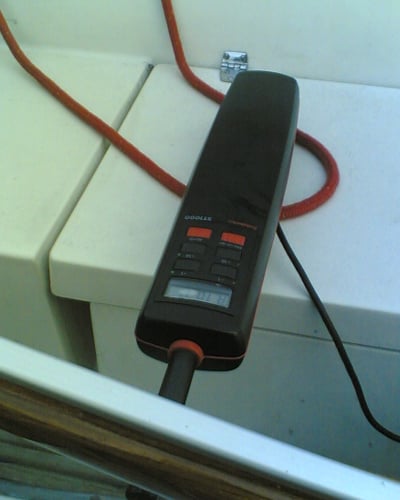 Sailing with my family back in the mid 70's, we used a fairly crude tiller mounted autopilot, made by Autohelm, who were later acquired by Raymarine. Ours was affectionately called George, though he was hated and loved in equal measure. As a child I learned some useful swear words, having listened to conversations between my father and "George".
The clever British chap who gave birth to George, later invented a system which allowed navigation instruments to network/communicate with each other. This digital-communications protocol is called SeaTalk, and is still in use with Raymarine today.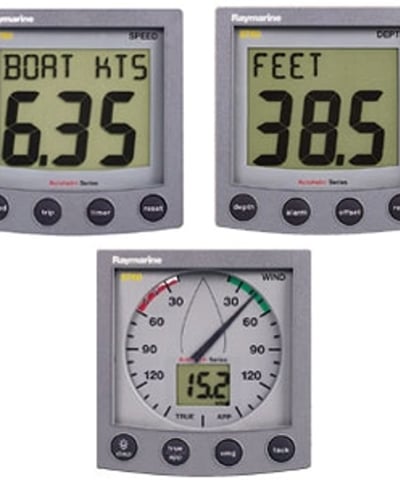 Raymarine utilised the SeaTalk system particularly well with the hugely successful ST series, which most boaters will be familiar with. These instrument displays are tailored to show: Speed, Depth, Wind, Close Hauled Wind, Compass, Rudder, Tri-Data and Repeater.
Nowadays the more modern i70 instruments are less tailored and offer many functions on the same panel, using a full colour super bright 4" LCD screen that can be read under direct sunlight. Being easily customisable, means you set the unit to display a myriad of data, including depth, speed, wind and more.
Not only does the i70 Multifunction Instrument Display still work with the legacy SeaTalk networks, it also works with the current generation SeaTalkng networks.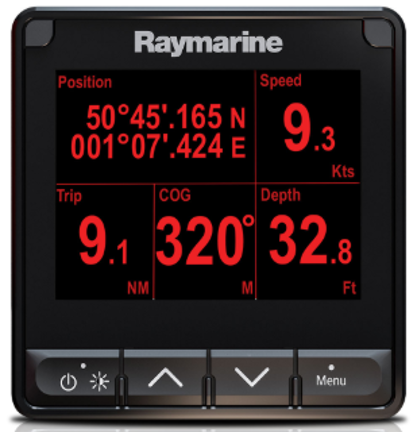 The Raymarine i70 instrument is remarkably easy to customize to suit your needs out on the water, whether racing, cruising or having fun.
You can also change the display to traditional analog dials to show engine information and tank levels. The i70 is the digital Swiss Army Knife.
This is a far cry from "George".
The reason that our boats use Raymarine is that they are easy to use, parts are available all over the world, and they are upgradable on a modular basis. Put simply, they work.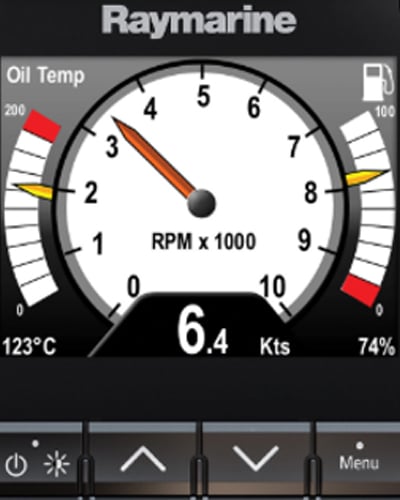 The biggest problem with technology is that it moves ahead so quickly. One moment you have a large video catalogue in VHS, then DVD/Blue-Ray, then digital, then cloud. The yachting industry, though having its legs in the past, innovates very quickly, and none more so than the electronics on board.
It is for this reason that the most common upgrade our buyers commission on their beautiful yacht, is the electronic navigation package. What was state of the art when the yacht was launched 4 or 5 years ago, is showing its age tragically early. However, when they upgrade, it's almost always with another Raymarine product. Raymarine is a company that continues to innovate, and draws respect amongst the boating community. Other competitors exist, such as Garmin and B&G; we just find that Raymarine works best.
So here's to another century of Raymarine's history, and who knows, one day we may all have a holographic crew member and friend called "George".
By Richard Vass – Yacht Broker for The Moorings since 2003.