As many of you know, Hurricane IRMA was the most powerful Atlantic hurricane in recorded history. This Category 5 storm had winds in excess of 180 mph and ripped through the Moorings & Sunsail bases in Oyster Pond, St. Martin and Tortola, B.V.I. leaving devastation in its path.
Catamarans and monohulls lost to Hurricanes
We finally got the numbers and facts together and thought that it would be a good time to share with our community to make sure that everyone is informed and to set the record straight.
In total the Moorings and Sunsail fleets had 179 yachts and counting that were deemed a Constructive Total Loss (CTL) or Total Loss (TL) by our underwriter. All of these CTL/TL's were sold off by our underwriter, and The Moorings/Sunsail Brokerage had nothing to do with these sales. The rest of the fleet was deemed "Repairable" so the long task started to find quality GRP workers from around the globe to fly into Tortola to begin the repair process.
Repairing the yachts and opening for business
The Moorings & Sunsail own the boatyard called Tortola Yacht Services (TYS) which is directly across from the base. Because of this we were able to get the repair process started quickly, and The Moorings quickly reopened the Tortola charter operations a mere three months after the storm. Before operations started to repair the boats they opted to employ a 3rd party surveyor to do an initial damage assessment, track the repair process, and then do a final sign off once completed. Since the storm, the Tortola base has employed over 153 experienced and skilled contractors with a range of expertise from GRP, to joinery, to mechanical to work through the yachts repair schedules, and to date they have repaired 200+ yachts and counting.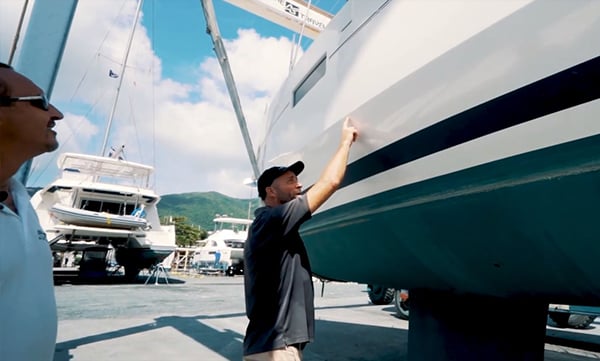 Safety and superior service
During the repair process we employed third party accredited marine surveyors to be involved with the repair from start to finish. Also, the equipment on these yachts is being replaced with new equipment where needed even on yachts leaving the fleet. Because of our direct relationship with the builders we were able to jointly plan a repair methodology and put together a repair schedule. The Leopard Catamarans have been repaired to Robertson and Caine's factory spec, and the same goes for the Beneteau & Jeanneau monohulls. In many cases they are now stronger than they were when new, and no shortcuts were taken along the way. When the boats were hauled if there was more damage found than initially was noted a surveyor was called out to re-assess, and then the repair methodology confirmed and then the work continued on. Since the Moorings/Sunsail bases have vast resources we were able to take on a project of this size that still continues to this day.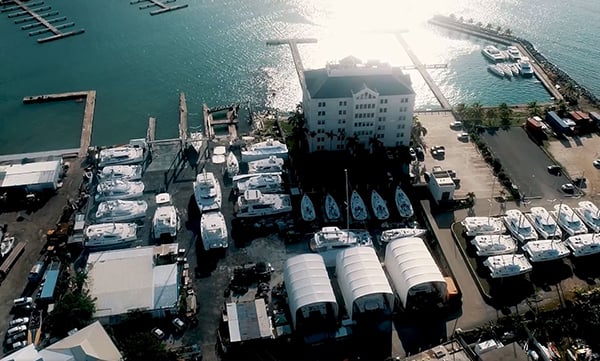 What does repairable mean for warranty?
As we start to see some of these "Repairable" boats come back to the market we anticipate to have to fight against very low prices on the refurbished CTL/TL Leopards which will impact the resale value of other "Repairable" boats as well as boats that were never effected by the hurricane. I had a chance to speak to Peter Robertson with Robertson and Caine regarding their obligation concerning the CTL/TL's that are being sold off by our underwriter and this was his response.
"We have no obligation to vessels classified as total loss or constructive total loss. The warranty is void and all claims must be referred to the repair contractor. The declaration of conformity (CE Certificate) is only valid for the original sale between R&C and the first owner.
Besides this, when we get inquiries from people who have either bought or are planning to buy these CTL/TL boats we always point out to them that they are buying a boat deemed to be irreparable into a good and seaworthy state. We refuse to give them repair advice, procedures, etc. and also don't give them any technical drawings or other advice. The only thing we'll give them is a copy of the original Owner's Manual as long as the client shows a copy of the BOS for that HIN in their name. We also are able to sell them certain spare parts that aren't readily available e.g. stainless steel parts specific for Leopards is the most common request."
Research your yacht before you buy it
To date we have seen some of these CTL/TL boats come back to the market after they have been repaired. A few of the owners/brokers haven't admitted and/or disclosed the fact that the boat they are selling was a CTL/TL and had since been repaired. For all the Leopard/Beneteau/Jeanneau Buyers out there, if there is any concern with whether or not the boat you are looking to buy was initially a CTL/TL from hurricane IRMA/ MARIA feel free to contact our office and we can send you the information that we have available. We have a full list of the Leopard/Beneteau/Jeanneau HIN's that were deemed CTL/TL's and we are more than happy to check the HIN you provide. We are a full disclosure brokerage so we prefer to give the client all the information that we have available for the boats, and then let the client make their own informed decision on whether they want to move forward with the deal.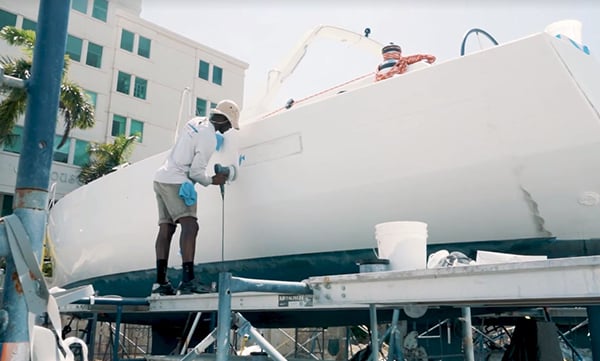 What the Marina Manufacturers Association says
Recently Robertson and Caine's Quality Assurance Manager, Dieter Roux, released the advisory below after meeting with both the National Marine Manufacturers Association (NMMA) and CE bodies.
Vessels Classified as Total Loss or Constructive Total Loss:
All Leopard Catamarans manufactured by Robertson and Caine (Pty) Ltd are built to the standards set out in the relevant Recreational Craft Directive and US Coast Guard regulations stipulated in the ABYC Standards. Vessels are issued with EC Type Examination Certificates by the International Marine Certification Institute (IMCI) and, since 2010, a NMMA Certificate.
Builders Certificates and Declarations of Conformity are issued to every vessel and is only valid at the moment the vessel is sold to the first retail purchaser in ex-factory condition. Vessels classified as total loss or constructive total loss may no longer conform to the Recreational Craft (EC Type Examination Certificate) and/or US Coast Guard regulations (NMMA Certificate).
Robertson and Caine (Pty) Ltd or any representative cannot be held liable for any claims against a vessel classified as total loss or constructive total loss by an insurer. Vessels classified as total loss or constructive total loss retain the registered hull identification number (HIN) and the manufacturers identification code (MIC).
Have a purchase plan and cash
Another concern with these boats is that most banks will not loan on a boat with any significant repaired hurricane damage, much less a CTL/TL. Therefore, any potential buyer would most likely have to pay for the yacht in cash. Plus all yacht insurance policies have the implied warranty that the vessel must remain seaworthy at all times. If an owner knows that a vessel was previously a CTL/TL then they must declare this to a carrier. If the carrier decides they want to accept the risk knowing that the vessel was a CTL/TL, then they should be covered. Unfortunately, most carriers won't accept these risks. The danger is that someone might buy one of these boats and not know that the vessel was a CTL/TL prior to the repairs. Subsequently, if the new owners have a claim large enough the carrier would then do their research and find out that the vessel was a CTL/TL and they could declare that the vessel was not seaworthy which would void the policy.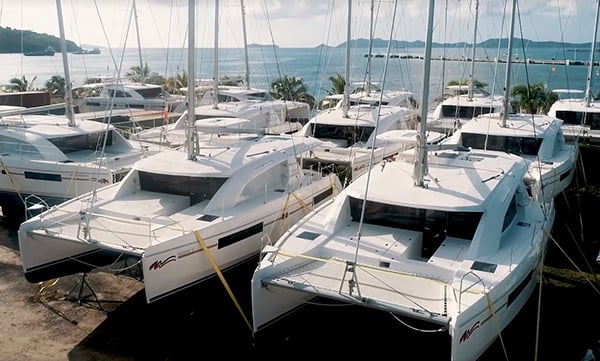 The Moorings Brokerage is always here to help you
In the end we all just want to enjoy a day on the water without having to deal with boat problems. Though it's inevitable that every boat has its own kinks that need to be worked out, we want to make sure that both buyers and brokers do their due diligence prior to purchase so their mind can be at ease. We recommend all buyer's work with a licensed and bonded Yacht Broker as well as a reputable surveyor for their sale/purchase transaction. The catamaran community is a very small community, so if you work with a broker in the know they will look after your best interest and guide you through the waves of purchasing a boat. As always, if we can be of any assistance, please don't hesitate to reach out to us directly.