New Adventures
Travis Massingale is a proud new owner of a Sunsail 444. Travis picked up his boat in St. Thomas during mid-August and has owned, 'ADOFRI' for about 2 months now. He plans to become a full time live aboard after about a year. The purchase was his, "first step to a long-awaited dream" and he can't wait to sail his family of four around the world.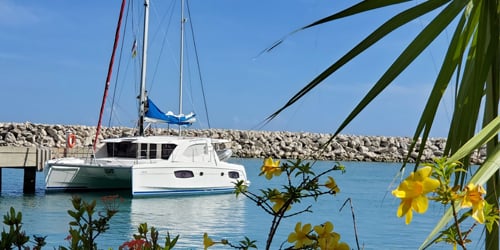 How It All Began

Travis is from Houston, TX and landed on purchasing a Sunsail 444 because of it's large size. He needed an over 40-foot boat to support the size of his family, and also loved the security of walk through to the bow for the sake of his kids. Before choosing a boat, Travis had done research for a few years to get his hands on the perfect boat. Upon his research, he noticed that Sunsail/The Moorings were always high recommended companies. Travis says that the easiest part of the boat buying process was that he did it all from his computer. Due to COVID, he could not see the boat prior to purchase, but he was able to view it virtually and handle the buying process completely online while respecting social distancing guidelines.
Travis has sailed 2000nm since picking up, 'ADOFRI' from St. Thomas and taking it to Kemah, TX. His broker, Bill Regan, has been available anytime Travis has questions and is only a click away on social media should he ever need immediate attention.

The Process
When asked if he would recommend The Moorings team to friends and family, Travis states, "Yes, I would, and I have already. I was treated above expectations and the boat was in top shape when I picked it up." His long-term cruising plan is to outfit/upgrade his Sunsail 444 for blue water extended cruising. Next year, he hopes to start cruising with his family for the next 2-3 years.
To learn more about The Moorings Brokerage and to hear other owner stories, visit our website or contact a broker today. View our current inventory of Leopard 44s for sale out of our charter fleets.