As the flagship of the Leopard line, the Leopard 58 is expertly crafted by world renowned Robertson & Caine. This luxury catamaran stays true to the sleek and innovative style that has made Leopard Catamarans so popular, while offering new features and multiple layout options.
Flagship of the Leopard Fleet
The Leopard 58 burst onto the scene entering the exciting new market of XXL sized cruising catamarans. The Leopard 58 is born from many innovations, and the winner of several accolades. The designer is the legendary naval architect Alexander Simonis, who has arguably done more to push limits of catamaran design, and taken a once niche product (cruising multihulls) into the sailing mainstream. The Leopard 58 is undoubtedly his crowning achievement, and you only have to go cruising one to appreciate this.
The Leopard 58 was designed from the ground up to be an open water yacht that places comfort and 'wow factor' at the top of the list, and most importantly be the ultimate stage for high end maritime vacations. The obvious standout, is the simply epic flybridge, from which you have this jaw dropping stage to appreciate your surroundings, both whilst sailing and at anchor.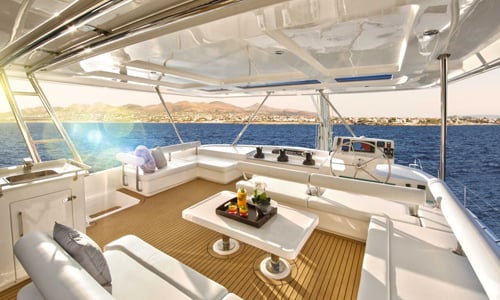 Sailing the Leopard 58
Some time ago, I had the pleasure of taking two Leopard 58's out on a mini-cruise 4 day with friends and family. Both yachts were fully crewed, so it was a given that we'd be well taken care, and naturally the awesome Moorings team excelled. What really struck our friends, was how luxurious these yachts were, and the flybridge became our breezy home, for food, drinks, relaxing, laughter and enjoying the unparalleled view. The recurring comments from the guests were that they felt like they were on a much more expensive mega-yacht. Also that this was better in every way, than staying at a 5 star resort. This was reinforced with cabins that opened up onto their private deck level cockpit, and comfortably sitting 10 adults and 3 children around a table for dinner, on the lower aft deck. We all felt that regardless of how professional our crew were, what really made the vacation was the Leopard 58, and as we were sadly pulling back into the dock, we started making plans for the next identical trip.
Tour of the Leopard 58
Something unique to this model, is the vast array of layouts available. We were sailing on a six cabin version, which has two cabins in each hull (the aft port is coverable to bunks), with two cabins forward of the main salon. These two forward cabins open up onto the capacious forward cockpit, a lovely breezy place to enjoy your morning coffee. Other available layouts, that are less 'charter', more 'owners' are:- three, four or five cabin owner's version. These are possible, as one hull can be dedicated to the owner, and the salon can open up all the way forward. So where the charter version has two cabins forward, you can either have a separate lounge office area that opens onto the forward cockpit, or you have a single large owners cabin here. This flexibility is the Leopard 58 trump card.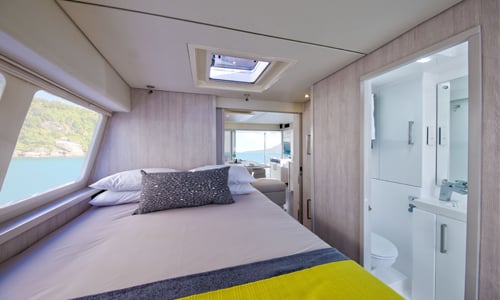 Going back to the flybridge (because its irresistible), here you can command all aspects for sailing this yacht from the central helm. Visibility forward and side to side is great, and all lines lead back to helm through a neatly arranged bank of rope clutches and then onto the powered winches. Push a button, and you're sailing, solo if needed, with a self-tacking jib. Here on the flybridge there is a wet bar, fridge and full sized BBQ, hence there being little need to leave this oasis. The aft end of the flybridge is open plan, and can fit three sun loungers in comfort. These can be cleared away, and you have space for yoga or in our case dancing.
Heading down the eight-step stairwell you come out into the aft cockpit, which has space for the large dinning table. Aft of this is the ingenious hydraulic swim platform, which lowers the tender into water, and can be set an any height. This means without the tender you can leave this semi-submerged, which works surprisingly well as a wet lounge, in calm waters. Or semi-raised as an easy to board aft dock, for people and supplies. When it's time to set sail, you simply raise your tender out of the water, and you're safe to make passage.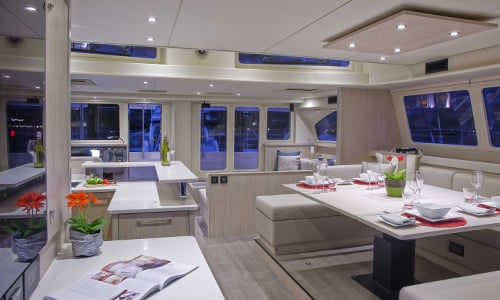 Heading inside, the salon is on the starboard side, where you have a very large seating area, with an expandable table. Here you can enjoy fine dining within the comforts of the fully air-conditioned yacht, or at the end of night, watch movies on the large flat-screen TV. On the port side is the generous galley, which is much larger than most yachts of this size, and provides plenty of preparation space in a fully wrap around configuration. The full sized standing fridge freezer is something all large yachts should have..
Leopard 58 Engine Power
For power, the vessel is pushed along nicely by two 75hp Yanmar engines (100hp optional) with v-drives, that are reliable and very economical. Most owners cruise at 2400/2600 rpm and at this speed you'll be pushed along at 7 knots. When maxed out at 3200rpm you'll make closer to 8-9 knots. This gives you the confidence to know that you'll be able to make good headway in adverse seas. Access to the engines is through the large aft hatches (where you'll also find the generator on port and the air-con power and pumps to starboard). Here you get tons of space to comfortably work on all sides of the engines for easy servicing.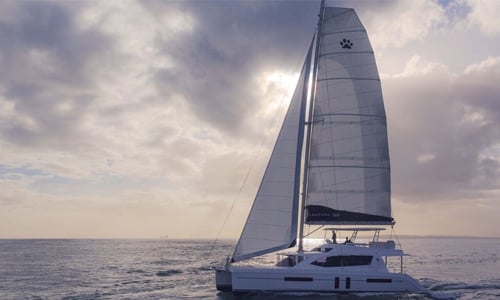 The water maker, if fitted, is located in the starboard bow drop down crew cabin. This same space is mirrored in the port bow, and can be used for yet more storage. Both these spaces serve as water-tight crash protection, to give you peace of mind during passage making.
This is by no means a racing yacht, but this isn't what a buyer of one of these is looking for. Instead you have a yacht that is comfortable in a seaway (helped by almost a meter of bridge-deck clearance and a full length water-line), and sublime at rest, for owners and guests alike.
The Leopard 58 is without doubt the most exciting large-sized cat out there, and gives many 80 foot cats a run for their money. Speaking with crews and owners they all talk highly of the space, comfort, reliability and wow-factor that this design gives. It helps that guests are in seventh heaven, and always want to come back. We all did too!