My clients often ask the question of which Leopard Catamaran model I would purchase if money were no object. My answer is always the same… the Leopard 48 Sailing Catamaran. After sailing a few thousand nautical miles on many different Leopard 48s in all parts of the Caribbean and US, it's clearly my favorite model and for many reasons.
Quick and Easy to Sail
Of course, we never go sailing alone, but I often take the helm of the 48 and never feel the need to leave. She's easy to maneuver getting on and off the dock and putting up the sails is a breeze from the helm station. Since all lines lead aft and all of your electronics and controls are together, it really makes the Captains life easy. Once you're underway, you'll see how well she handles large swell and heavy winds. The extra waterline on the 48 really makes a difference out at sea. She has a really fast hull shape and we've seen consistent 12 knots of boat speed against the current, in some conditions as much as 18 knots of boat speed.

Enough Space for Everyone
We never feel over crowded on a Leopard 48. There are enough "zones" for family and friends to spread out. You've got the forward cockpit, the aft cockpit, the large salon, helm station and expansive coach roof to give you enough space that nobody ever feels confined. That being said, if it's just the two of us, we spend most of our time on anchor eating and lounging in the forward cockpit. It's the perfect spot for two or four people to relax and enjoy the breeze. The extra fold out tables make it easy to have breakfast or lunch while on anchor. We never feel like the boat is too big (or too small)!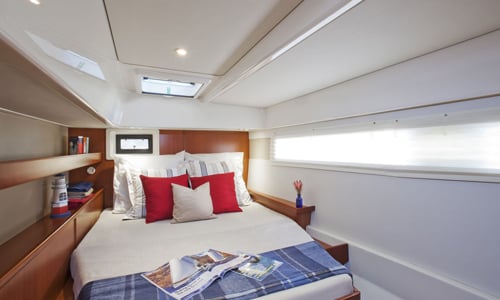 Beautiful as well as Practical
I don't need to tell you the Leopard 48 is a beautiful boat, that's clear to see. What may not be as apparent is that if you've ever owned a boat, you know that at some point you will have to maintain or repair the systems onboard. The Leopard 48 has enough room in the engine compartments to change the oil, and in the bilges to clean them thoroughly, as well as access panels throughout the boat where you may eventually need to get to. This allows the savvy owner to do most of his own maintenance and repairs and save time and money in doing so. Not only has she been designed with beautiful lines, but she's been designed with practicality in mind as well.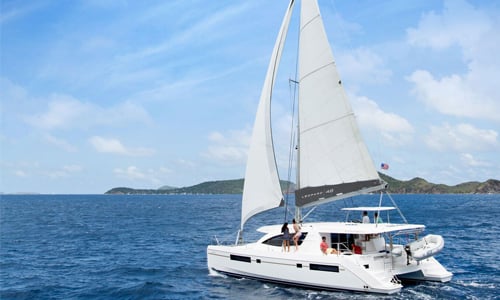 Superior Livability as well as Sail Ability
Many of our Leopard 48 Sailing Catamaran owners have circumnavigated the Caribbean, the Pacific and even the World. It's apparent that she is a blue water vessel. But her live ability is far superior to any other vessel I have ever sailed. The front door allows for ventilation like no other vessel in her range. We love to sleep with all of the hatches and doors open to allow for airflow.