The award winning Leopard 45 made a big splash when she launched in 2017 and won the Boat of The Year Award. Now she is a popular model in high demand, one of our agents that has been working with Leopards for many years reviews this boat here:
The Leopard 45 made its debut two short years ago but has quickly cemented itself as a great addition to the Leopard line. Taking over the mid-40' sailing catamaran duties from the Leopard 44 and 48, the 45 has some great design features to fill the shoes of those very popular models.
I had the chance to sail the 45 in Tortola, BVI not long after its debut and our crew had a great time tacking and gybing up and down the Francis Drake Channel. The boat was easily driven up to 7.5 knots on a close reach in 12 knots of breeze. The 45 is easily controlled from the helm with the electric winches and rope clutches located close at hand, which has become something of a hallmark across all Leopard sailing cats. Visibility is good around the boat from the helm station and of course easily handled in close quarters with the twin engines spaced so far apart.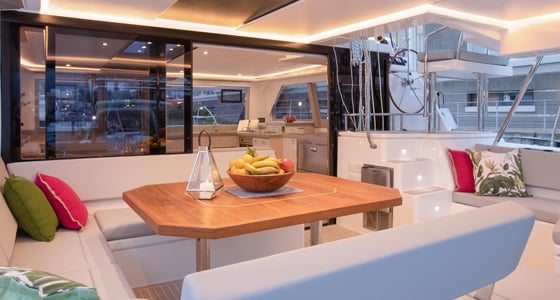 The aft cockpit is well laid out for entertaining and eight can easily fit around the large table. If you have a bigger party on board the sliding door between the salon and cockpit opens fully to connect the two seating areas. The galley is forward in the salon and offers the chef fascinating views out of the boat.
Unique to Leopard Catamarans is the forward cockpit forward of the salon with attaching forward door that allows you to walk from the bow to the stern without having to go around the saloon. This has proved immensely popular and is a great space for lounging underway, having cocktails at anchor, or even keeping watch from on a passage.
A generous owner's suite is to starboard in most private configurations. To port are two large staterooms with each having its own head. Though we haven't seen any of the charter version of the Leopard 45 come out of the Moorings or Sunsail fleets yet, those boats will be configured in a four cabin four head set up.
Whether looking for an island hopper, liveaboard, or worldwide cruiser the Leopard 45 should rank highly on anyone's list of catamarans in the mid-40' range. Being a newer model we haven't seen many come available on the brokerage market as of this writing, but anticipate prices in the $600k or more range for a nicely outfitted privately owned boat.