Pop onto any Facebook group or internet forum about sailing and ask what type of anchor is best and you'll likely be embroiled in a lively discussion. Not since you asked about "catamaran vs. monohull" will you have seen such passionate discussion from a bunch of sailors!
The Moorings Chosen Yacht Anchor
So, which anchor is best? I'm not going to fall down that slippery slope! We've come a long way in anchoring technology since the days where a dozen burly sailors needed to man a capstan to haul up a giant fluked admiralty anchor. Most cruising boats today rely on a primary anchor designed like a plow (Delta, Rocna, Bruce, Mantis), with secondary anchors often being a lightweight fluke type (Danforth or Brittany). Anchors, like many things, are often called by their brand or manufacturer. These anchors are easy to deploy and offer reliable holding in many types of bottoms. Anchoring has been even further simplified by the proliferation of electric windlasses to haul in the anchor and rode.
Used boats in The Moorings and Sunsail fleets use the tried and true Delta anchor type which offers a fast setting design and good holding in the sandy bottoms often encountered in charter destinations. These primary anchors are attached to several hundred feet of chain to increase the holding power even more. A secondary Brittany (fluke style) anchor is fitted in the event two anchors are needed or the primary is lost.
New Designs
In recent years a few companies have come up with some new designs for even faster setting (and re-setting) anchors that have become popular on cruising boats. Namely Rocna and Mantis. When cruising through the Bahamas and Eastern Seaboard aboard my yacht had a Rocna anchor. I found it to be exceptionally reliable in all types of bottoms from mud to sand and even hard pack where it barely dug in. I was really impressed when anchored in Georgia marshland with 10' reversing tides how the anchor would reliably re-set itself every six hours as the current switched with the tide. Whoops, I may have just fallen down the slippery slope!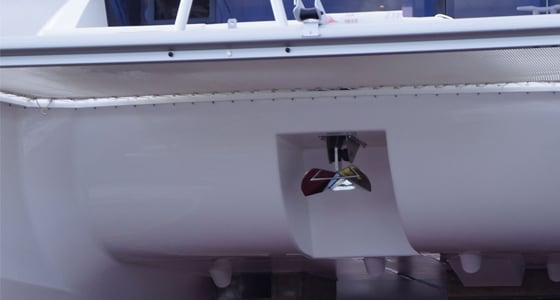 Proper Anchoring
Whichever anchor you choose for your boat, be it the stock one that comes with the new purchase or an upgrade, proper anchoring technique is a must. A good rule of thumb is to let out enough scope for the conditions you are expecting: a 5:1 scope for chain or 7:1 or great scope for a chain and rope rode. So if you are anchored in the Exumas in 10' of water with an all chain rode you'd want to set out at least 50'. But, be sure to account for the height of your boat's attachment point above the water however, so if in 10' of water and the anchor sits 4' above the waterline you'd want more like 70' of rode with the chain.
Other Precautions
Remember to follow local anchoring regulations, for instance, in the BVI many islands have adopted a mooring buoy system. And please pay attention to the bottom you are over. For example, coral reefs can be irreparably harmed by an anchor and chain dropping on or dragging over them. Otherwise, get out there and enjoy your boat and discover all the beautiful anchorages you can!